Project:
Biodiversity of Long Island Freshwater Macroinvertebrates
Students:

brianna marinick, Isa Hollander, Samantha Kelly, Michael Hanson

School:

Connetquot HighSchool, Suffolk

Mentors:

John Halloran
Abstract:
In this experiment, macro invertebrates will be collected in different locations of the Connetquot River to examine the changes caused by temperature differences. Changes in macro invertebrates could give insight on how temperature fluctuations could affect humans in the future. The diversity of macro invertebrates will also be observed to determine if changing temperatures an affect the biodiversity of the Connetquot River in the different locations. The results that will be collected will be compared with a separate group who are studying past data which was collected also at Connetquot River.
Poster: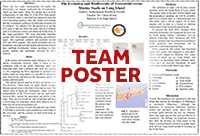 View team poster (PDF/PowerPoint)
Team samples: