Project:
Are Repellent Bracelets Equally Effective Against Different Species of Mosquitoes?
Students:

Michael Massoni, Christopher Dubinsky, Justice Coppiano

School:

Connetquot HighSchool, Suffolk

Mentors:

John Halloran
Abstract:
Mosquitos are insects which are known for carrying various diseases like Malaria and West Nile. We are going to use two different types of repellent bracelets to catch the mosquitoes, one with natural repellents and one with DEET, as well as a control without repellent bracelets. Then, we will use DNA barcoding to identify specific species of mosquitoes which are known for carrying West Nile and count the number of mosquitoes that could have West Nile. We will then record all of the data and determine whether the repellents are effective.
Poster: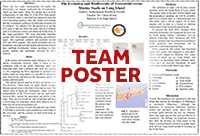 View team poster (PDF/PowerPoint)
Team samples: