Project:
Examining Copepod Diversity Throughout the Connetquot River
Students:

Jenna Drapala, Alejna Kolenovic

School:

Connetquot High School, Suffolk

Mentors:

John Halloran
Abstract:
Our project is expected to show the copepod diversity throughout a fresh to salt water river system. This will be done by sampling various areas of water with a plankton net, these areas will include freshwater, brackish water, and salt water for copepods. While we are testing the main idea of finding the differences in copepods according to the differences in salinity, we will keep in mind other variables such as ph levels, nitrogen levels, and temperature. After obtaining the organisms, they will be sorted, identified, and then barcoded, in order to identify if there are different species of copepods present with various salinity of water.
Poster: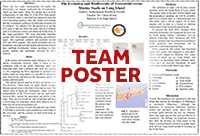 View team poster (PDF/PowerPoint)
Team samples: