Project:
Insects on the Wrack Line
Students:

Freddy Ramon Ramon, Julian Goren, Cameron Moses, abdul khan

School:

Long Beach High School,

Mentors:

Cody Onufrock
Abstract:
The wrack line is the high-tide deposition line on the beach. These wrack lines can often contain kelp, insects, small sediment, sand, and pebbles. You might see birds, and other small animals feeding on the kelp and insects. We are going to collect these insects and use DNA barcoding and/or taxonomic keys to find out what kind of insects live by the wrack line. By collecting these samples we will be able to identify the diverse species of insects that live by the wrack line, and why. Many different species of shorebirds, including the Herring Gull, Swallow, and the plover utilize the wrack line as a food source (Schlacher et.al, 2016). Long Beach is a key stop on the migratory path of some of these birds, and these insects provide essential nutrients for them, as well as overwintering and nesting birds.
Poster: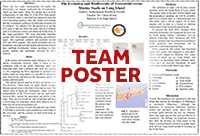 View team poster (PDF/PowerPoint)
Team samples: