Project:
Can Coral Species Be Identified Using DNA Barcoding?
Students:

Emily Mysliwiec, Isabella Ibraham, Isabella cottone, Pari Patel

School:

Connetquot High School, Suffolk

Mentors:

John Halloran
Abstract:
There are many threats to corals, especially Acropora corals, which are important because they provide benefits to ecosystems and humans. This experiment is trying to identify coral samples provided by the Riverhead Aquarium. It will be tested to find the most effective method at the lowest cost. DNA extraction is being attempted through four methods, MoBio Kit, Chelex method, Silica Protocol and Quick DNA kit. After extraction DNA samples will be sequenced and then barcoded and compared to database for identification and addition of novel sequences.
Poster: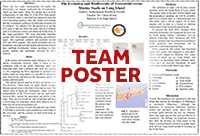 View team poster (PDF/PowerPoint)
Team samples: