Project:
The Impact of Human Interaction on the Biodiversity of Fungal Life on Long Island
Students:

Michael Kamerer, Michael McGowan

School:

St. Dominic High School, Nassau

Mentors:

TRACY NELLINS
Abstract:
Microorganisms are greatly affected by the activity of humans, especially in a densely populated area such as Long Island, New York. The biodiversity of the ecosystem depends on mycorrhizal fungi that inhabit the soil near the roots of trees. The differences in the number of organisms of this certain classification of fungi are immensely impacted by human development. The areas of Long Island that can best present the effects of human interaction with the environment include developed residential areas, whereas areas that may not be disturbed by these interactions are comprised of heavily deciduous undeveloped areas.
Poster: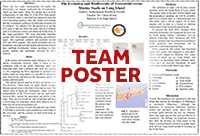 View team poster (PDF/PowerPoint)
Team samples: