Project:
An Ants Life
Students:

Pacey Cronin, Michael Hand, Katherine Ramos Nieves

School:

Shelter Island High School, Suffolk

Mentors:

Daniel Williams
Abstract:
Ants are insects of the family Formicidae, that have great species diversity between microenvironments, even sometimes from one ant hill to the next in the same environment. This project seeks to examine ant species diversity between three distinct locations on Shelter Island, Ram Island Shelter Island, beach environment, the middle of Shelter Island grassy field and South Ferry beach and grass. We expect to see ants found in the middle of the island to match species found on Long Island, whereas ants found on the beach will be unique to Shelter Island as the estuary environment is unique.
Poster: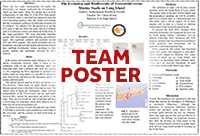 View team poster (PDF/PowerPoint)
Team samples: