Project:
Mosquito Species in Queens, New York: The Mosquito Hunt
Students:

Nada Eldeeb, Amanda Ma

School:

Francis Lewis High School, Queens

Mentors:

Jessica Cohen
Abstract:
Mosquitoes pose a threat to our society in the context of spreading disease. We will use a sugar and yeast solution to collect the samples. The traps will be set up in two different locations in Queens. The insects caught will be documented and the species will be identified by DNA barcoding. Through this study, we can analyze the biodiversity in the area. This experiment can potentially increase the knowledge of the types of mosquitoes including invasive species in Queens. By understanding the different types of mosquitoes in an area, the types of diseases that are more prone to spread can be determined and in turn be prevented.
Poster: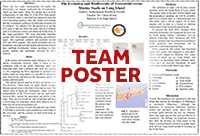 View team poster (PDF/PowerPoint)
Team samples: