Project:
The Effect of Pathogens and Nutrients on Aquatic Biodiversity
Students:

Makaela Flanagan, Juliana Colica

School:

St. Dominic High School, Nassau

Mentors:

TRACY NELLINS
Abstract:
We will study the specific effects each pathogen has on organisms and how that would affect other trophic levels, food chains, predation relationships, symbiotic interactions, and overall balance. Then, we plan to research the population density of these species over the past few years and determine how pathogens and nutrient pollution affected the population growth and specific changes that took place in each location of each sample over time. This research will then be applied to resolving issues such as poor sewage management, or other causes of pathogen introduction and spread in environments, to avoid further spread of pathogens and to work towards the growth, stability, and increased biodiversity in the Long Island Sound again.
Poster: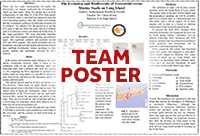 View team poster (PDF/PowerPoint)
Team samples: