Project:
Ant Biodiversity in Different Long Island Environments
Students:

McKayla Entenmann, Shannon Poole, Zhaojia Zhu

School:

St. Dominic High School, Nassau

Mentors:

TRACY NELLINS
Abstract:
The purpose of our project is to investigate the impact the environment has on ants living in both a wooded area and a fertilized area. We will be able to see if chemicals, such as those in fertilizers, have an impact on the biodiversity of ant species. We will compare the mitochondrial DNA of each of the ants we collect to one another and see if there is a greater variety of species in one area. In order to analyze the DNA, we will go through the barcoding process by using the rapid method. First we will isolate the DNA from each ant. Next, we will amplify the DNA and analyze it through gel electrophoresis and DNA Subway. We expect to find more ant biodiversity in the wooded area than the groomed, fertilized area. We will take into consideration the chemicals added into the fertilizer, how often the grass is cut, and the possible ways this changes the ants environment compared to an wild, forested area that is not maintained with lawnmowers or fertilizer.
Poster: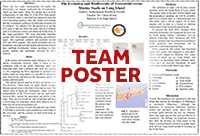 View team poster (PDF/PowerPoint)
Team samples: