Project:
Plants on the Beach: Long Island Sound Vs. Huntington Bay
Students:

Will Van Deusen, Ryan Terry

School:

St. Dominic High School, Nassau

Mentors:

TRACY NELLINS
Abstract:
The purpose of this experiment is to compare the biodiversity of beach plants on the Sound with the biodiversity of beach plants on the Huntington Bay. Plant biodiversity can be very different in similar environments, and this experiment is made to examine the differences in these plants using DNA barcoding. Ten samples will be collected in this experiment, five from each beach. These samples will be collected using sterilized gloves to avoid contamination, and each sample will be from a different place on the beach to avoid repetition. The DNA will then be extracted from the samples and amplified to prepare it for sequences. After the DNA is sequenced, the results will be used to find the species of each plant. The species will then be compared between beaches to see how similar their plant life is.This data will be put in a chart with most similar to least similar and a conclusion will be drawn by analyzing this chart.
Poster: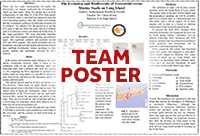 View team poster (PDF/PowerPoint)
Team samples: