Project:
Diversity of Algae in Long Island
Students:

Coraima Flores, Stella Mancini

School:

St. Dominic High School, Nassau

Mentors:

TRACY NELLINS
Abstract:
The purpose of our project is to find examples of biodiversity in samples of algae collected from two ponds, the Twin Ponds in Centerport and Stella Mancini's outdoor pond in Long Island, New York. Algae in itself is made up of multiple different microorganisms that are not defined very strictly, so it is very likely that we will be able to find multiple different specimens during our experiment. It produces a massive supply of oxygen in marine habitats, and has recently become much more abundant during recent algal blooms. We hypothesized that if we collect samples of algae from two different ponds on Long Island, then we will find genetic differences between the specimens because their habitats are not the same and neither are their environmental functions. We will isolate DNA from the algae and amplify it to get our results. After our amplification, the DNA sequencing process will help us to determine the differences between these samples more easily.
Poster: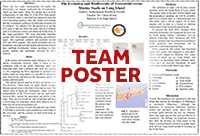 View team poster (PDF/PowerPoint)
Team samples: