Project:
Investigating the diet of the Piping Plover
Students:

Harry Murphy, Ariel Keynan

School:

Long Beach High School, Nassau

Mentors:

Cody Onufrock
Abstract:
The piping plover is classified by the IUCN to be near threatened. Without preservation efforts from humans, the piping plover would not survive in its current state. Not much is known about the diet of the piping plover, which is crucial information needed to discover more about their habits.
Poster: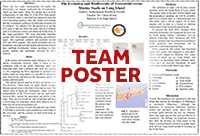 View team poster (PDF/PowerPoint)
Team samples: