Project:
Biodiversity of Mushrooms in the Long Island Pine Barren Region
Students:

Jalal Sawas, Taylor Peperno

School:

Shoreham Wading River High School, Suffolk

Mentors:

Dana Schaefer
Abstract:
Located in the Pine Barren region, there are a multitude of fungi that can be found. These species are important because they produce and cycle valuable nutrients that are used in the environment such as nitrogen, as well as absorbing elements into their tissues, such as trace metals, helping prevent the contamination of surrounding species. It is anticipated that several of these species will be found within the study site in the Pine Barrens ecosystem. In order to collect the samples mushrooms will be excised with a scalpel from the grounds of the Shoreham Wading River High School campus, preserved in wax paper and refrigerated at 4° celcius. Then using Barcode Long Island protocol we will extract our DNA, send the DNA to be sequenced and analyze the sequences to identify the genetic identity of our samples.
Poster: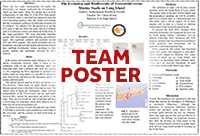 View team poster (PDF/PowerPoint)
Team samples: