Project:
The Effect of an Urban Setting on Amphipods
Students:

Denika Kao, Holly Wemple

School:

Ethical Culture Fieldston School, The Bronx

Mentors:

Howard Waldman
Abstract:
Our goal in collecting DNA samples of amphipods in Van Cortlandt park is to determine which species reside there and even more specifically, if they are grazing amphipods, which greatly impact the benthic community in bodies of water. We can also discover if there are any invasive species or non-grazing amphipods, which may have have negative effects on the Van Cortlandt park lake ecosystem. Species will be collected and the DNA will be extracted and copies will be made of the DNA sequence. We will then correlate the collected data to the water quality: amount of dissolved oxygen, phosphate, nitrate, pH, coliform and turbidity which will be collected from the different areas of the lake to determine the environmental factors that create diversity of species in amphipod.
Poster: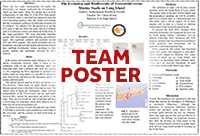 View team poster (PDF/PowerPoint)
Team samples: