Project:
The effect of pesticides on the biodiversity of ants.
Students:

Isabel Lopes, Dominique Crecco

School:

Mineola High School, Nassau

Mentors:

Ellen McGlade-McCulloh
Abstract:
This study will determine if herbicides affect the biodiversity of ants as part of DNA Barcoding ant campaign. This research will collect ants on two different residential houses in the same town. One house has used the herbicide Weed B Gon (Ortho, active ingredients are dimethylamine salts) on their property for over a year, Meanwhile, the non pesticides location has been pesticide free for over a year. DNA from ants, non pesticide and pesticide locations, will be isolated, amplified, and identified using DNA Barcoding and DNA subway. Once the ants are identified the biodiversity of the ants with or without pesticides will be evaluated.
Poster: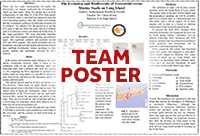 View team poster (PDF/PowerPoint)
Team samples: