Project:
Comparison of Biodiversity of Aquatic Macroinvertebrates in a Pond on Long Island as part of a Longitudinal Study of the Pond's
Students:

Ryan Nowak, Sofia Stirpe, Vanessa Turecamo

School:

Shoreham Wading River High School, Suffolk

Mentors:

Dana Schaefer
Abstract:
Macroinvertebrates will be collected and DNA extracted to help evaluate the health of a small freshwater pond located on the campus of Shoreham-Wading River High School. Using taxonomic identification macroinvertebrates will be identified by physical characteristics. To confirm the taxonomic identification, Barcode Long Island procedures and methods will be used to extract DNA, amplify by PCR, and visualize by gel electrophoresis. Leech species collected will be identified and biodiversity of these species relative to other macroinvertebrates will be measured, to help indicate the overall health of the water and sediment within the pond ecosystem.
Poster: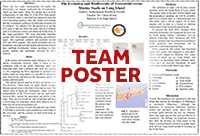 View team poster (PDF/PowerPoint)
Team samples: