Project:
Using DNA Barcoding to Analyze the Biodiversity of Flatworms in a Riverine Ecosystem
Students:

Lauren Acevedo, Saniyyah Pitner

School:

William Floyd High School, Suffolk

Mentors:

Victoria D'Ambrosia
Abstract:
The Forge River is a highly polluted riverine ecosystem. The unstable geomorphology of Fire Island and Westhampton Beach has also affected the oceanographic conditions of the Forge River and consequently on its biological community (Swanson & Brownawell & Wilson, 2010). This project aims to analyze the biodiversity of flatworms throughout this riverine ecosystem due to their ecological importance and impact on human health. This will be done by analyzing the COI gene using DNA Barcoding. It is expected that the biodiversity of flatworms will be similar throughout the river due to organic matter and nutrient pollution present.
Poster: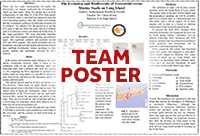 View team poster (PDF/PowerPoint)
Team samples: