Project:
Arthropods at Home
Students:

Gwendolyn Posner, Emily Baldeo

School:

Long Beach High School, Nassau

Mentors:

Cody Onufrock
Abstract:
Our research question is "What is the distribution of household pests in Long Beach and Island Park?" Is that diversity correlated with distance from wild habitat types? We hypothesize that there will be more insect diversity in the East End of Long Beach towards the bay as opposed towards the ocean. The bay has stiller water than the ocean and the west side of Long Beach is really narrow while the east side is wider. "We expected that indoor arthropod diversity would increase both with house size and with surrounding plant coverage and diversity in local gardens,"(Leong etel, 2017) In this study arthropod diversity increased if the location had more plants. Maybe we'll find that the locations in Long Beach with more plants will have more arthropod diversity.
Poster: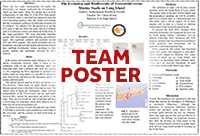 View team poster (PDF/PowerPoint)
Team samples: