Project:
Tardigrade Biodiversity Across Long Island
Students:

Robert Jean-Gilles, Luke Rinaldi, Sofia Marchetta

School:

Huntington High School, Suffolk

Mentors:

Lori Kenny
Abstract:
The purpose of this experiment is to help further expand heterotardigrada (terrestrial tardigrades) biodiversity. Although specimens have already been collected across the country, New York has had very little research impacting this field. Tardigrade samples will be collected at various parks across Long Island. Samples will be stored in brown paper bags until they can be transferred to a sterile environment. With barcoding, the DNA will be extracted from samples, allowing for classification of species. Each location in which a specimen was collected was marked using a Global Positioning System.
Poster: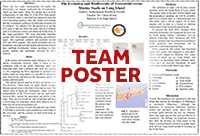 View team poster (PDF/PowerPoint)
Team samples: