Project:
Measuring Biodiversity of Moss Species in Several Microenvironments in the Pine Barrens Region of Long Island
Students:

Brianna Donnelly, Torre Ann Parrinello

School:

Shoreham Wading River High School, Suffolk

Mentors:

Dana Schaefer
Abstract:
Mosses are valuable to an ecosystem for a variety of functions, including as a nesting site for species such as birds and salamanders. In this project, biodiversity of moss species in the Pine Barren ecosystem will be measured using genetic identification. Samples will be removed from site of growth with a scalpel, dried overnight and preserved in alcohol. Following taxonomic identification of the species using a dichotomous key, species identity will be confirmed using Barcode Long Island DNA extraction protocol, sequencing and genetic analysis.
Poster: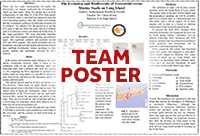 View team poster (PDF/PowerPoint)
Team samples: