Project:
Fungal Diversity in Coastal Ecosystems
Students:

Joseph Pimentel, Jacob Grant

School:

Long Beach High School, Nassau

Mentors:

Cody Onufrock
Abstract:
We will collect fungi by looking for mushrooms and different types of fungi in our environment of Long Beach Island, NY. We will only collect the top mushroom which is the fruiting body as most of the macrofungus is underground.(Niedermeyer, 2005) We will identify these fungi using ID guides. If we are unable to ID using keys, then we will use DNA barcoding.
Poster: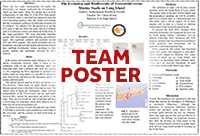 View team poster (PDF/PowerPoint)
Team samples: