Project:
Using DNA Barcoding to Identify Toxic Algae Present in Wading River New York
Students:

jahdeba williams, Jhoana Sinchi Puma, Munachi Egbuziem

School:

William Floyd High school, Suffolk

Mentors:

Victoria D'Ambrosia
Abstract:
Anthropogenic influences are known to have a significant role in the cause of a changing ecosystem. Between 1973 and 1984 the Wading River nuclear power plant, a general electric nuclear boiling water generator, was built. The generator was later decommissioned in 1989 due to community riots. In construction of the generator, the ecosystem was altered to increase water accessibility by dredging and widening of the inlet (MacCalion, 1995). It is believed that the dredging and the widening of the inlet increased the flow rate and changed other properties, including salinity and nutrient presence. However, that cannot be confirmed due to lack of previous data. This project aims to use DNA barcoding to analyze current seaweed biodiversity in this anthropogenically influenced environment and identify if any species are bioindicators for potential contamination.
Poster: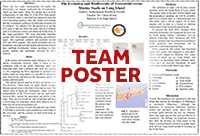 View team poster (PDF/PowerPoint)
Team samples: