Project:
Amphipod Diversity in Two Bay Estuaries in Mattituck: Farmland vs. Residential
Students:

Max Cantelmo, Wylee Sanders, Madison Storm

School:

Mattituck High School, Suffolk

Mentors:

Anna McCarroll
Abstract:
This project will compare the population biodiversity of amphipods between two estuaries in the Mattiuck township. One location is surrounded by farmland and the other is surrounded by residential housing. Nitrogen levels will be tested and may be the cause of a change in species diversity in the two locations. Amphipods will be collected with a plankton net, identified with a taxonomic key and processed via Rapid Isolation to do DNA BarCode analysis.
Poster: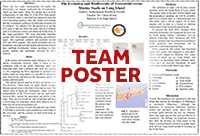 View team poster (PDF/PowerPoint)
Team samples: