Project:
Scat Happens
Students:

Grace Olinkiewicz, Theo Olinkiewicz

School:

Shelter Island High School, Suffolk

Mentors:

Daniel Williams
Abstract:
We see deer in our community every day, are they just visiting from the woods or do they spend most of their time in our town. While we cannot follow the deer around to see what they are doing and what they are eating, we can examine their scat to learn about their habits. Scat or deer droppings can be examined to find out what plants deer are eating, landscape suburban plants or plants found only in the woods. This project looks to test the hypothesis that due to habitat destruction deer are getting most of their diet from suburban plants not from the woods.
Poster: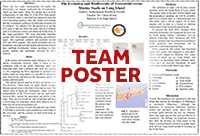 View team poster (PDF/PowerPoint)
Team samples: