Project:
Using DNA Barcoding to Analyze the Biodiversity of Predatory Arachnids
Students:

Isaac Galizio, Matthew Johnson, Muhammad Taha

School:

William Floyd High School, Suffolk

Mentors:

Victoria D'Ambrosia
Abstract:
The Forge River is a highly polluted area due to historical duck farming (Swanson et al., 2010). Spiders are important to study because they are biological controls for vectors (Riechert & Lockley 1984). If spiders decrease than other levels of the trophic pyramid may fluctuate with the spider population(Liu,s,2015). A process called DNA barcoding will be used to identify spider species and evaluate regional biodiversity. Specifically, the gene Cytochrome oxidase subunit 1 (COI ) will be used for DNA isolation. A study conducted in 2017-2018 concluded species present varied by location. However, only 8 at of the 20 barcodes were successfully barcoded. The aims of this research is to observe biodiversity of spiders year to year and to increase sample size.
Poster: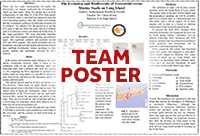 View team poster (PDF/PowerPoint)
Team samples: