Project:
Mosquito Biodiversity at Upland Farm
Students:

Henry Como, Harrison Woods

School:

Cold Spring Harbor HS,

Mentors:

Jamie Lawlor
Abstract:
We hypothesize that the Mosquito biodiversity at Upland Farm will be greater compare to other areas due to its thriving dairy farm history. Therefore this greater biodiversity in mosquito species could potentially translate to a greater quantity of harmful vectors of disease to humans, especially because there are a high traffic of humans around Upland Farm. We will be comparing our results with other BLI projects.
Poster: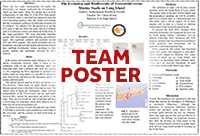 View team poster (PDF/PowerPoint)
Team samples: