Project:
Biodiversity of Different Species of Invertebrates Based On Their Location
Students:

Erin Sanginario, Peter Thais, Daisy Rubio

School:

St. Dominic High School, Nassau

Mentors:

TRACY NELLINS
Abstract:
This research that will be conducted involves capturing six invertebrates from three different parks across Nassau County, resulting in eighteen invertebrates in total. These parks include Cedar Creek Park, Eisenhower Park, and Welwyn Park. These invertebrates will be processed using a technique that will ultimately isolate each invertebrates DNA. The DNA will be examined and compared to see if there are any differences in the code. Since Eisenhower is very much affected by humans with baseball fields and playgrounds, along with the body of water at Cedar Creek affected by humans boating and such. Compare this to the isolated Welwyn which isn't affected as much by humans. If there is less biodiversity in the human affected parks this shows that if humans keep meddling in the environment it may lead to a lack of food source.
Poster: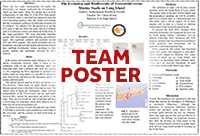 View team poster (PDF/PowerPoint)
Team samples: