Project:
Biodiversity Within Insects of Long Island
Students:

Shannon O'Leary, charlie mediavilla

School:

St. Dominic High School, Nassau

Mentors:

TRACY NELLINS
Abstract:
Deoxyribonucleic acid, DNA, can be found in every organism on Earth. Without DNA, it would be nearly impossible to scientifically differentiate species from each other. It has been determined in previous studies that insects residing in different parts of the world have slight variations in their DNA. In this study, the mitochondrial DNA of insects will be examined and coded to determine the dichotomy between human populated areas versus not. Insects have been collected and observed in the Cold Spring Harbor Laboratory to determine whether or not there was a difference in DNA.
Poster: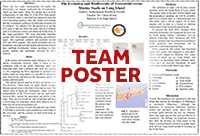 View team poster (PDF/PowerPoint)
Team samples: