Project:
Transportation of Invasive Species via Recreational Boating in Cold Spring Harbor and its Effect on Marine Biodiversity
Students:

Annabelle Coles, Hannah Stark, Natalie Schnurman

School:

Cold Spring Harbor Jr/Sr High School, Suffolk

Mentors:

Sheila Mauriello
Abstract:
We would like to use DNA Barcoding to identify invasive species brought to Cold Spring Harbor by boat traffic. We believe that boat traffic has had a negative impact on biodiversity in the harbor. We would like to see which organisms could be brought here by boat traffic and how this impact has affected the biodiversity of the harbor as a whole.
Poster: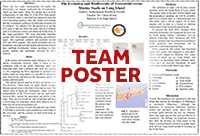 View team poster (PDF/PowerPoint)
Team samples: