Project:
The Effects of the Abundance of Mud Crabs on the Biodiversity of Cold Spring Harbor
Students:

Anthony Giouvalakis, Nicholas Gioules, Henry Dam, Benjamin Bonventre

School:

Cold Spring Harbor Jr/Sr High School, Suffolk

Mentors:

Sheila Mauriello
Abstract:
We would like to use DNA Barcoding to identify the species of mud crabs that appears abundant and seeming to overpopulate Cold Spring Harbor. Once identified, we would like to investigate how the abundance of the species is impacting the overall biodiversity of the Cold Spring Harbor. We hypothesize that the over-abundance of thes organisms is having a negative impact on the biodiversity of Cold Spring Harbor. We intend to compare our class collection to past studies done, including the Davenport Study, to better understand how populations of organisms in the harbor have changed over time.
Poster: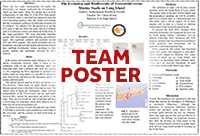 View team poster (PDF/PowerPoint)
Team samples: