Project:
The Effect of the Asian Shore Crab on Biodiversity in Cold Spring Harbor
Students:

Amanda Nemshin, Claire Wallace, Hannah Van Son

School:

Cold Spring Harbor Jr/Sr High School, Suffolk

Mentors:

Sheila Mauriello
Abstract:
Our project is to investigate how the increase in Asian Shore Crab populations has affected the biodiversity of Cold Spring Harbor. Our goals include finding the population of the organisms we collect and comparing them to past studies to understand the impact of the crabs on other organisms. Our hypothesis is that the biodiversity in Cold Spring Harbor has decreased over the years due to the Asian Shore Crab. The decrease in biodiversity would negatively affect human health because the loss of biodiversity can lead to increased contact with disease and loss of livelihood.
Poster: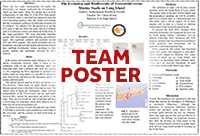 View team poster (PDF/PowerPoint)
Team samples: