Project:
The biodiversity of ants on the school campus serving as bioindicators of potentially harmful pollutants to students
Students:

Sarah Varghese, Elizabeth Niemiec  

School:

Patchogue-Medford High School, Suffolk

Mentors:

Jennifer Gatz
Abstract:
There are traits in ants that can reveal characteristics of the environment in which they are found. For this reason, they are referred to as an "indicator" species- organisms that show traits that convey the nature of their environment. Our goal is to study the effects of traffic and rubber pollution on the biodiversity of ants in the region. We predict that the biodiversity of ants will decrease near the roadway and close to the astroturf track and will be higher near the wooded area on campus. To accomplish this, we will be obtaining ants from different locations at Patchogue Medford High School.
Poster: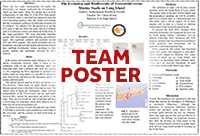 View team poster (PDF/PowerPoint)
Team samples: