Project:
Successful Piping Plover Foraging
Students:

Harry Murphy, Ariel Keynan

School:

Long Beach Senior High School, Nassau

Mentors:

Cody Onufrock
Abstract:
The diet of the piping plover is not well understood. DNA barcoding allows scientists to accurately identify invertebrates found in known nesting sites. Piping plovers are very skittish and will abandon nests if a human gets too close (Vandusen, 2012). The birds are also greatly affected by hurricanes and tropical storms because of their reliance on coastal feeding and breeding grounds (Convertino 2011). Piping plover habitats are volatile and subject to change constantly which has contributed to the declining population rate of the species. Research Question: What are successful breeding pairs of piping plovers feeding on?
Poster: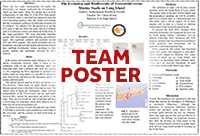 View team poster (PDF/PowerPoint)
Team samples: