Project:
Mosquito Diversity in Long Beach
Students:

Robert Ortiz, Rio Arengo, Shirley Sanchez

School:

Long Beach Senior High School, Nassau

Mentors:

Cody Onufrock
Abstract:
This project is an attempt to answer the research question: Does mosquito population density and diversity differ across the island of long beach? Breeding areas and wind patterns affect what mosquitos are present in an area. Biting insects are important vectors of disease and are also a nuisance. In this study, a mosquito trap will be deployed in backyards. The geographic location of the traps will be set so that some are close to the bay (N. Shore) and the other is close to the ocean (S. Shore). We will record wind direction in an attempt to determine if mosquitoes are breeding within housing areas or are being carried by the wind from the marsh areas. Hypothesis: There will be a greater population and diversity of biting insects in the bay environments of Long Beach, New York than in the beach environments.
Poster: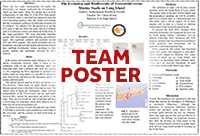 View team poster (PDF/PowerPoint)
Team samples: