Project:
Can compost attract pest species?
Students:

Brady Romano, Daniel Quick, Ava Lithgow

School:

Long Beach Senior High School, Nassau

Mentors:

Cody Onufrock
Abstract:
The family Coleopteran is a very diverse family. They make up 40 percent of all insects. The family Coleopteran include all beetles and weevils. If we collect beetles from both compost and lawn soil, there will be pest species found in the compost but not the regular lawn soil. This is important because the compost may be attracting species which may act as pests on garden crops. We would like to better understand the effect that compost has on the surrounding environment.
Poster: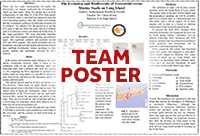 View team poster (PDF/PowerPoint)
Team samples: