Project:
Beetles in the Light
Students:

Jordan Collinson, Saoirse Marx

School:

Long Beach Senior High School, Nassau

Mentors:

Cody Onufrock
Abstract:
How does the presence of light affect the quantity and diversity of beetles? To test this, we will set up rocky areas and rotting wood under light and some in the dark. The light will be on during night hours. Beetles will be collected in the morning daily over a period of two weeks, counted and identified. DNA barcoding protocol will be used for species unable to be identified using guides. The beetles will be preserved in ethanol.
Poster: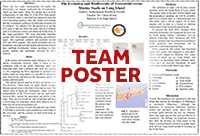 View team poster (PDF/PowerPoint)
Team samples: