Project:
Ants diversity on a Barrier Island
Students:

Jason Medina, Gabriel Petty, William Pagan, Matthew O'connor

School:

Long Beach High School, Nassau

Mentors:

Cody Onufrock
Abstract:
Ants evolved from wasps 140 million years ago. They are now found in six of seven continents. Ants are generally considered to be intrusive and unwanted but they play a key role in ecosystems. Whether it be cracks in sidewalks, soily patches of lawn, or sand filled holes, Long Beach hosts a multitude of habitats in which ants may live. Are these species within the homes wild ants that invade dwellings, or ants that are specific to homes only?
Poster: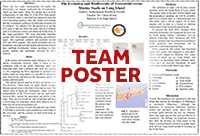 View team poster (PDF/PowerPoint)
Team samples: