Project:
Soilbiocubes
Students:

Idan Pascal, Brendan Hellman, Brooke Dowler

School:

Long Beach High School, Nassau

Mentors:

Cody Onufrock
Abstract:
Research Question: What invertebrate food chains exists in 1ft3 of lawn soil, marsh soil, and compost and how does it compare to similar biocube sites around the world? Hypothesis: The Simpsons index of compost soil will be greater than organic lawn soil and saltmarsh soil. Therefore food chains will be more complex in these soils.
Poster: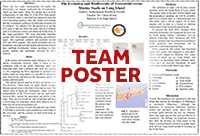 View team poster (PDF/PowerPoint)
Team samples: