Project:
How does the use of pesticides affect the biodiversity of any species located on residential properties in Northport, NY?
Students:

Erin Navas, Emma DeMarco

School:

Northport High School, Suffolk

Mentors:

Bryan Horan
Abstract:
The purpose of our Long Island DNA Barcoding research project is to determine which species of ants are present on lawns in a residential development. Ultimately, we want to answer the question: Does the use of pesticides affect the abundance and biodiversity of the ant species living in a specific environment? We hypothesize that lawns treated with pesticides will have fewer ant species and ant numbers than untreated lawns.
Poster: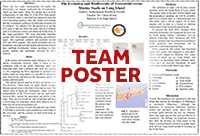 View team poster (PDF/PowerPoint)
Team samples: