Project:
Investigation of Wrack Line Food Chains
Students:

Cameron Moses, abdul khan

School:

Long Beach Senior High School, Nassau

Mentors:

Cody Onufrock
Abstract:
The wrack line is the high-tide deposition line on the beach. These wrack lines can often contain kelp, insects, small sediment, sand, and pebbles. Birds, and other small animals feed on the kelp and insects. What insects inhabit the wrack line along the Atlantic shoreline of Long Beach, New York?
Poster: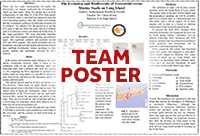 View team poster (PDF/PowerPoint)
Team samples: