Project:
The Effect of Water Quality on the Biodiversity of Amphipods
Students:

Brooke Lynn Haley, Kayla Sauers, McKenna Smith

School:

West Islip High School, Suffolk

Mentors:

Mary Kroll
Abstract:
Amphipods are bio-indicators that are affected by water quality (Podlesińska & Dąbrowska, 2019). They are relatively present in water environments (Hughes & Ahyong, 2016). Amphipods are quite difficult to tell apart by just looking at their anatomy with the human eye (Herbert & Gregory, 2005). We aim to evaluate the relation between water quality and number and diversity of amphipods in two different bay locations: a privately owned beach in our town and Heckscher State Park. We hypothesized that if the pH, water salinity, and dissolved oxygen are all at normal levels, then the amphipod species will be more diverse and a greater variety of amphipods will be collected.
Poster: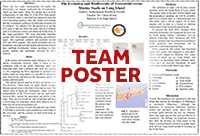 View team poster (PDF/PowerPoint)
Team samples: