Project:
The Effects of the Antibacterial Agents on the Biodiversity of Microorganisms in Soil
Students:

Anusha karki, Mahmuda Khatun, Huiyun Zheng

School:

High School for Health professions and human Services, Manhattan

Mentors:

Rocheli Apilan
Abstract:
The overuse of antibiotics has led not only to their accumulation in the environment but to even more significant, to the selection of antibiotic-resistant bacteria (ARB) and their antibiotic resistance genes. This study will investigate the diversity of microorganisms present in the soil that will be collected from different locations in Coney Island Creek and New York Harbor. It will determine the change of the diversity of organisms after the soil is treated with antibacterial substances. It is worth emphasizing that this study can result in the discovery of a potential antibacterial substance with a narrow range of bacterial inhibition. This in turn can resolve antibiotic crisis.
Poster: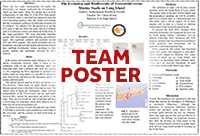 View team poster (PDF/PowerPoint)
Team samples: