Project:
Biodiversity of Flying Insects in NYC
Students:

Owen Moore, Jonah Moy, Savannah Smith

School:

Frank McCourt High School, Manhattan

Mentors:

Vincent Joralemon
Abstract:
We are researching biodiversity in flying insects. We are looking to find the effect of certain types of flying insects, specifically the spotted lantern fly, an invasive flying insect native to Asia, and it's spread to the east coast of the United States. Owen, Savannah and Jonah will set up fly traps across New York and collect flies from 3 seasons. We will extract the DNA and separate it from other cellular components. To analyze the type of fly we will use gel electrophoresis and find the DNA letters with sanger sequencing. We will then use a program called BLAST to find the exact species of fly and make a mark of their date and location along with any extra notes.
Poster: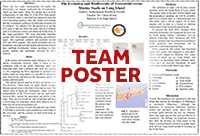 View team poster (PDF/PowerPoint)
Team samples: