Project:
Developing a Protocol to Extract DNA from Spider and Tarantula Exuviae to Less Invasively Identify Long Island Spiders Using DNA
Students:

Brendan Ackerly, isabella DeRosa, Taylor Monsegur

School:

William Floyd High School, Suffolk

Mentors:

Victoria D'Ambrosia
Abstract:
As biological controls, spiders consume unwanted biological vectors such as mosquitoes. Despite ecological importance, spider populations are declining due to destruction of habitats. To help determine a less invasive protocol to identify spider species, DNA will be extracted from exuviae using touch DNA techniques and the Qiagen Power Soil protocol and analyzed using DNA Subway Blue Line. It is expected that extracting DNA from the exuviae will allow to identify species without spider death.
Poster: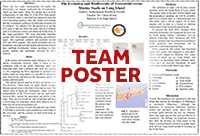 View team poster (PDF/PowerPoint)
Team samples: