Project:
DNA Barcoding Biodiversity in the Peconic River
Students:

Thomas Lavallee, Aidan Young

School:

Eastport South Manor HS, Suffolk

Mentors:

Robert Bolen
Abstract:
The Peconic River has been the focus of remediation for the last several years. The status of the biodiversity of this river system is fragile and much has been done to improve and stabilize the river. Our group collected samples of freshwater invertebrates such as copepods, amphipods, dragonfly larvae, and leeches. Our goals are to identify the invertebrate species collected and determine if any invasive species exist. We will also analyze the organisms we collected to determine if any pose a threat to human health as disease vectors.
Poster: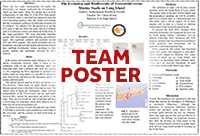 View team poster (PDF/PowerPoint)
Team samples: