Project:
Identifying Unfamiliar Species in the Peconic River
Students:

Fiona Schlegel, Allison Wynne, Kristina Sheludenko, Malaika Safian

School:

Eastport South Manor HS, Suffolk

Mentors:

Robert Bolen
Abstract:
Recent scallop deaths in the PEconic River have not been attributed to any known cause. Our sampling of organisms from the freshwater region close to the headwaters of the river system may reveal changes in the river over the last few years which may provide insight into the issues in the saltwater region of the river system, The influx of non-native organisms which can disrupt ecosystems may lead to the loss of important organisms which provide a food source for other larger fish. These organisms may also have an impact on the health and well-being of humans as they may bring new disease or eliminate beneficial organisms that act as natural controls for pests and other nuisance organisms.
Poster: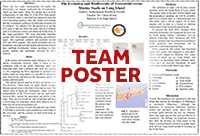 View team poster (PDF/PowerPoint)
Team samples: