Project:
Spider Microbiomes
Students:

Brianne Maher, Kyle LaSpisa

School:

William Floyd HS, Suffolk

Mentors:

Victoria D'Ambrosia
Abstract:
Microbial communities within three separate species of arachnids were closely examined. It was expected that arachnids of the same species would possess many of the same microbiota and could then be grouped together when data is displayed. Samples were collected, identified, and DNA was isolated. Microbial communities were determined using 16s rDNA. It was found that species 1 and 3 had some of the same distinct bacteria not found within species 2. Species 1 and 3 were collected from the same location, suggesting that location may play a bigger factor than initially considered when it comes to microbial makeup of arachnids.
Poster: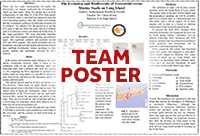 View team poster (PDF/PowerPoint)
Team samples: