Project:
Investigating the Effects of Pesticides on Beetle Biodiversity
Students:

Ella Causin, Joshua Devery, Olivia Drapala, Caleigh Gobetz

School:

Connetquot High School, Suffolk

Mentors:

John Halloran
Abstract:
In this experiment we are comparing the effect pesticides have on beetle biodiversity. We will collect organisms from a pesticide lawn and a non pesticide lawn and see whether one lawn's beetle biodiversity is greater than another's. We will DNA barcode each beetle for a more accurate identification of the specimen. After this is done will compare the lawn beetle's biodiversity. In addition we hope to explore if certain species are more or less common in areas that use pesticides to show some species may be more resistant to pesticides.
Poster: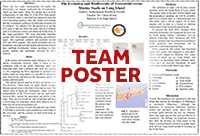 View team poster (PDF/PowerPoint)
Team samples: