Project:
Moth Diversity
Students:

Melissa DiBlasi, Trinity Srich

School:

Connetquot High School, Suffolk

Mentors:

John Halloran
Abstract:
The purpose of this experiment is to check on the diversity of the moth population to see how urbanization could be affecting them and their part in the ecosystem. All three trapping locations are located in two of the three team member's family homes, and the third location is at the home of the Science Research Teacher. Location A is in Oakdale. In this particular spot, there is a semi moderate amount of trees on people's properties in the neighborhood. Location B is located in Ronkonkoma; the home and the neighborhood are filled with moderate amounts of trees and foliage, in other words, is more open and less dense with plants. Location C is in Westhampton Beach, NY. The neighborhood around the home including the home itself is filled with many trees and foliage.
Poster: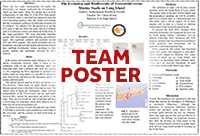 View team poster (PDF/PowerPoint)
Team samples: